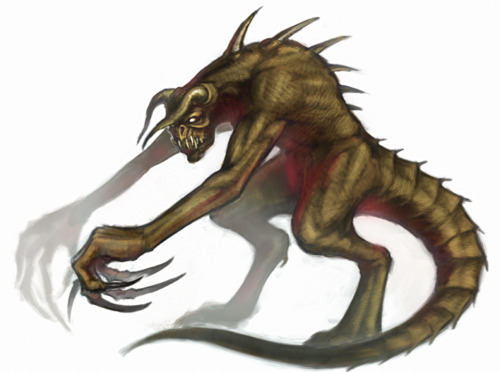 Taanaos's lightsaber slashed and cut deep into the mothers side. The beast howled in pain, a screech that echoed throughout the jungle forest. The wound would have been fatal on any other creature, but the mother's size made up for it's toughness to continue the fight. The energy of the lightsaber cauterized the slash as well, preventing the deathclaw from bleeding out.
Despite it's injuries, the Deathclaw mother attempted to rake Taanaos with both it's claws. The recent wound hampered the beast as it lashed out.
The other juvenile pressed Samara despite it's near fatal wound. It pounced at the rebel with both claws taking a swipe.
Player Info | Show

Mara: Agility D10, Health D10, Armor D20
Riet: Agility D10, Health D10, Armor D8
Samara: Agility D8, Health D12, Armor D20
Taanaos: Agility D12, Health D20, Armor D6
Forces in Effect: Dark Presence (Taanaos)
Incoming Attacks | Show

Tannaos attacked with 10, 10
Samara attacked with 11, 3
Enemy Info | Show

Deathclaw1 Mother: Agility D12, Health D10 d12 d20, Natural Armor D12d20 d30 - Engaged with Taanaos
Deathclaw2 Juvenile: Agility D12, Health D12 d20 d30, Natural Armor D12 d20 d30- Engaged with Samara
Deathclaw3 Juvenile: Agility D12, Health D12 d20, Natural Armor D12d20 - dying
Deathclaw4 Baby: Agility D20 - minion dead
Deathclaw5 Baby: Agility D20 - minion dead
Deathclaw6 Baby: Agility D20 - minion dead
Every one up for the round