It was just afternoon on a Wednesday (about a week after Vixen, Franz, and Daze had their run in with the Red Samurai), when the shadowrunners' commlink's chirped for an incoming message. Checking it, they saw it was a Plex's matrix icon. Answering the call, the icon was replaced by the dark-haired visage of the fixer.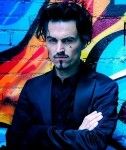 His voice had that British accent as the video message said, "'Allo, 'allo. I got word of some more work if you are interested. I received this from another contact, and it could lead to some more jobs if you do well."
"If you are interested, go to Underworld 93 tonight at 7pm. There is a small concert going on, but you can name drop MacCallister with the doorman and that should get you inside. Enjoy the show and he should find you afterwards to discuss the job. Just remember that I get my usual 10 percent referral, yeah?"
"Here is a pic of MacCallister so you recognize the bloke."
The picture file showed a grinning male ork. His face was lined with age; his hair and goatee were touched with grey and a pair of golden datajacks gleamed along his left temple. Wire-frame glasses sat upon his nose, the kind that correct your vision, not tinted mirrorshades that make you look badass or even the more modern AR glasses or goggles, but honest-to-ghost reading glasses.
Plex's video continued after a few moments, "I sent this to a few runners, so expect a former acquaintance or two and maybe a new face. But everyone is dependable, or I would not have lined you up for this opportunity. Just text me an acceptance, and I will let MacCallister know to expect you."
The video message ended.