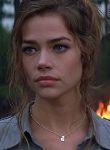 Caitlin continued to wipe tears from her cheeks with her sleeves, not even registering that she had been crying. Whether it was from anger, fear, or grief, even she did not know. It was probably all three mixed together.
At least Rian's body was not running away now. "What explanation? You have evaded explaining and openly admitted to be stealing Rian's memories as well as his body!"
"A blood test is only evidence to help prove you are not infected. Show us that change in your eyes again so Delvin can look," she demanded.