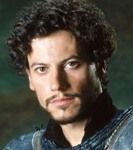 Veric glances back at the others and blinks,
"Eh? This was only a few hours ago. How can you all forget?"

"Ahhh, I know. You all were concerned over the welfare of those people we found afterwards. I guess I can forgive you and not try to fix your memories with a few knocks on your heads with my mace."
The cleric's voice is a deadpan, and he doesn't sound like he is joking. It is hard to tell for sure.
He doesn't give any indication there is more forgotten lore to impart.