The next day, the trio of sisters are outfitted for their audience with Field Marshal Cressida Kroft and arrive about an hour before the lunch hour. They are allowed admittance and are invited to join her in her office. When they enter, they find she is not alone.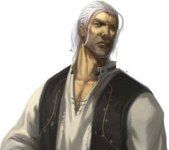 A handsome man sits in one of the chairs at her desk, and as the three sisters enter, he rises and bows. Field Marshall Kroft greets them.
"Good day to you. Thank you for coming today."
"Allow me to introduce an old friend, Vencarlo Orisini."
Vencarlo is a charming man, and he bows deeply as he's introduced. He is wearing well-tailored clothes, white shirt under a dark crimson vest. He also has a finely crafted rapier on his belt and polished black leather boots that go to the knee. His hair is in a pony tail, a few strands escaping to playfully adorn his face. He is tall and muscular.
"Why hello. Aren't you all just visions of perfection. Allow me to kiss each of your hands." He smiles warmly and approaches Gweyn first.