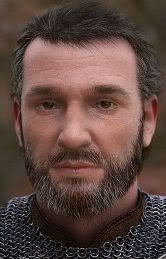 Kedric Horngood
Male Human, Paladin of Iomedae.
He made a name for himself, along with some fellow knights trained in the Citadel of Light in Vigil, Lastwall, fighting orcs in Belkzen. After hearing of a former comrade in arms being assassinated by a winged woman and a barbaric female that was in company with her, he has embarked on a quest to track down the fiendish woman and put an end to her evil ways. His swordsmanship is well known as well as his black destrier he rides into battle.
Attributes:
Very strong with good stamina.
Wise and charismatic.
Fearless.
Skilled at handling animals and a good rider.
Good when dealing with people and not easily fooled.
Known to cast some divine spells and possess the healing touch.
Excellent combat skills when using his shield and longsword.
Favors mounted combat as well.
Appearance:
Well crafted plate mail armor and heavy steel shield
His finely made longsword is rumored to share a special bond with him, blessed by Iomadae
He has a well-made lance whenever he is mounted
Carries a few chakram on his belt.