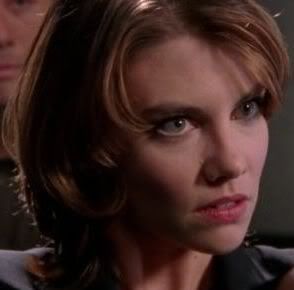 Narissa, Assassin of Hextor
Appearance:
Shoulder length light brown hair, pale skin and golden eyes that change to black. 5' 8", 125lbs (140lbs with wings). Black angel wings when materialized.
Personality:
She doesn't believe in hurting innocent children and feels this puts her above the unprincipled villains. She believes in scheming to expand her strength and power and is willing to exploit and kill people to meet those ends. She is selfish and vengeful. Not afraid to be devious or deceitful in her achieving her goals.
Background: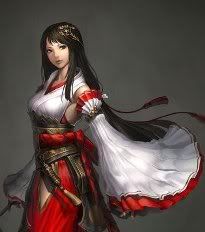 Born in the lands of Varisia, Narissa was an adventurous sort, and as a result not a pious as a worshiper of her deity, Abadar the God of Law as was expected. She believed in the laws of the order, but just never felt at home. She just could not muster the passion for helping people or doing good works, often believing many of these people should take personal responsibility for their situation. As result, some thought her selfish or too cold-hearted. She trained hard and focused more on combat prowess rather than works of charity.
While observing her work on keeping law and order, an agent for an obscure God of Tyranny and War decided the girl had great potential and could be swayed away from her path to worship him instead. After all, the ideals of her order were not that far removed. The evil god, through his high priest, took personal interest as the girl had proven to be a remarkable warrior making her an even more desirable champion of his purposes. Slowly the priest, under false pretenses, began the process of tricking her and seducing her to the evil side of things. She continued her works combating forces of chaos and keeping order in the Hold of Belkzen and the lands of Ustalov, but more and more the companions around her were less concerned about the morals for protecting the innocent.
These new companions and agents of the evil priest sent Narissa on a quest to kill a supposedly blackguard champion who was capturing children and selling them into slavery. In a carefully orchestrated ruse, Narissa and her two cohorts raided the hideout and surprised the guards killing them all and releasing the children. Unfortunately the supposed guards were really knights on a rescue mission and had only just arrived. Both groups battled each other believing their foes to be the slavers. The real slavers, in the pay of the evil priest, had already vacated the premises knowing that this carefully orchestrated encounter's purpose was to have Narissa kill those too self-righteous knights.
Her quest complete, Narissa was rewarded by her new god and was granted divine powers including her angel-like wings (only black) that could manifest at will whenever she wished. In a cruel twist, her new master revealed his true identity and showed her proof of that the men slain in the slavers' hideout were in the service of the Goddess of Justice, Iomedae. And her gift was really an awakening of fiendish blood running through her veins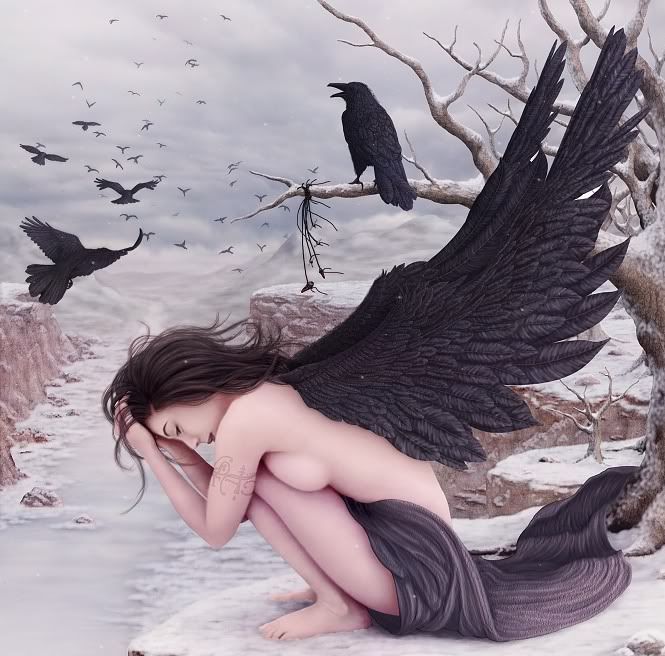 With the dawning realization of what she had done and the person she had become, Narissa's heart was torn asunder and she mourned her transformation alone in solitude. During her seclusion while contemplating uncertainty of her fate, her two loyal cohorts were discovered and executed by knights seeking vengeance. Even though they were guilty, she felt that her cohorts had also been tricked and did not deserve to die. A vengeful anger quickly replaced sorrow and self pity; and she systematically stalked and hunted those knights. When she found them each alone, she challenged and killed each one in mortal combat. The paladins of the order these knights belonged to never had proof of her part in their executions, but they harbored suspicions that she might be responsible. However they still wanted her head for her part in the slavers' hideout slayings.
Her victories have proven her martial skill and she glories in the new power she could achieve. With these latest enemies' deaths fresh, she vowed in their blood to continue along this new path of power and embraced her worship of Hextor. She continues her revenge on those too righteous worshipers of Iomedae and their arrogance of justice, if only they could see that the world is not black and white, but gray.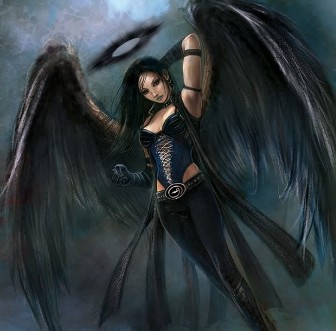 With her worship of Hextor solidified in her heart she set about on a campaign of covert assassination, honing her skills and martial prowess to that end. She also has no qualms of killing other villains either if it is to her advantage. The temples of Iomedae know her as the "Dark Angel" and they are slowly becoming to realize that she is the one that killed Sir Percival and is suspected of leaving many other knights lying dead from individual combat challenges. Realizing that knights questing to defeat her have not brought the results they had hoped for; they have since dispatched bounty hunters with special skills in this sort of thing. She has been traveling around Ustalov, Numeria, and the River Kingdoms looking for new allies to aid in her quest for power and survival against the knights of Iomedae still pursuing her even now.
Combat Spoiler Block (Level 3):